Petersime confirms market leadership during outstanding VIV Asia exhibition
As the poultry industry in Southeast Asia is gearing up for expansion, investment plans are back on the table. Petersime again confirmed its leading market position in the region and closes VIV Asia with a new contract with Charoen Pokphand Foods, a crowded booth and an enthusiastic vibe.
The poultry industry in Southeast Asia is growing and the impact thereof was clearly visible during VIV Asia at the Petersime booth. The booth was crowded with people from over the world taking an interest in the company's incubators and the Operational Excellence Programme™, a service package with best practices to maximize return on investment, which was Petersime's strong suit during this exhibition. Petersime is global market leader in incubators, hatchery equipment, turnkey hatcheries and lifelong services and support.
"What a show! I will always remember the 2017-edition of VIV Asia in Bangkok as one of the absolute best shows Petersime ever participated in. The mood at the show was vibrant and the number and quality of the visitors outstanding," says Michel De Clercq, one of the CEOs of Petersime, enthusiastically.
The enthusiastic team of Petersime staff and Petersime distributors
"Investment plans are back on the table," continues Michel De Clercq. "With a balanced supply-demand situation in the most significant poultry markets and with the prospect of solid long-term growth, poultry producers are gearing up for expansion and rationalization. Consolidation and modernization are key for higher efficiency in poultry production. Petersime delivers hatchery solutions that help to maximize the profit of poultry companies. Life-long partnership and continuous exchange of know-how with our customers is the base for success."
As if to underline his words, Charoen Pokphand Foods (CPF) signed a contract for the construction of a Petersime turnkey hatchery for Thailand. CPF is the world's largest producer of feed, shrimp, and a global top three producer of poultry and pork.
From left to right: Worawat Leewattanapisarn, General Manager of World Agri Business Co Ltd (Petersime distributor Thailand); Mr Wisit Whathanavin, Senior Vice President of CPF Co.; John Vanackere, Petersime Area Sales Manager; Mr Chamrat Phettakhu, Vice President of CPF Co.; Mr Attakorn Campakdee, Technical Manager at CPF Co.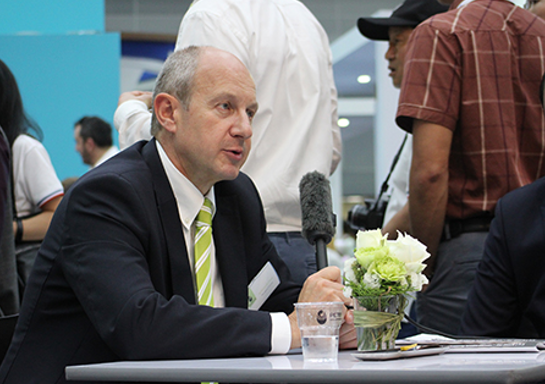 Michel De Clercq continues: "The global avian influenza situation remains of course a major concern to everybody involved in the poultry industry, but authorities and poultry producers seem confident that ultimately we will collectively come to grips with the issue."