Women in Poultry: Angela Guerra
Learn more about Angela Guerra, Aviagen's Global Trade Compliance Manager
Angela Guerra is the Global Trade Compliance Manager for poultry breeding company Aviagen. Angela is passionate about international trade, global regulations working with international liaisons, and an opportunity to work in a constantly changing environment. She currently serves as Programs and Services Committee Vice President and a Board Member for the North Alabama International Trade Association (NAITA). Angela is also a former President of the Air Cargo Committee for the US Poultry and Egg Association. In this interview, Angela talks about her ongoing mission to keep up with ever-evolving rules and their impact on the business while minimizing risk and maintaining current business practices. This must all be done even amid unforeseen global challenges.
What is your background, and how did you come to work in the poultry industry?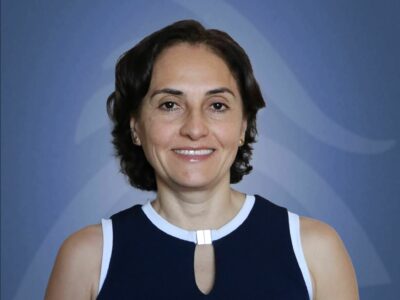 I have more than 25 years of experience working in different aspects of international business – trade compliance, logistics and supply chain management. I graduated high school early, and at age 16, I started working for a company that provided international services to IBM in Bogota, Colombia. I then moved to a freight-forwarding service that managed all imports from an eye health products company and a French multinational corporation specializing in luxury brands, and a few other companies before moving to the USA.
To answer the second part of the question on how I came to work in the poultry industry, that was purely accidental. I've been living in the US since 1999, when I left Bogota and traveled to the USA to become fully fluent in English. In the US, I met my husband and started a family, and in 2008 I heard about an open position as an export coordinator at Aviagen. I got the job because of my background, education in international trade, and language skills (fluent in English, Spanish and Portuguese). However, it was a steep learning curve to learn about the poultry industry.
What was the focus of your education, and how has it shaped your career?
International Trade is what I have always wanted to do, and that's why I chose this as my field of study to advance in my career. Trade compliance is multi-faceted enough to allow experience in new areas and across different industries.
I earned a Bachelor's degree in International Trade from a University in Bogotá, Colombia. In 2016, I got an MBA with an emphasis in supply chain from the University of Alabama, Huntsville. My language skills also came in as a big bonus, as some people in the countries I work with don't speak fluent English.
What's unique about your role?
The requirement to understand and interpret the complex and diverse international trade regulations of different countries makes my role extremely unique. Not only do we need to be well versed in our own country's laws, but we have to know and interpret those of all the countries our company does business with. When I say "interpret," I mean that when there are regulatory changes on a global level, I have to send those updates to our Aviagen locations and be ready to explain how such changes will impact their business. The language is precise, and one word can affect the meaning of a regulation, which means I must be thorough and accurate.
Describe a typical day for you.
The global trade compliance program is implemented in Aviagen group and its subsidiaries worldwide, including joint ventures where we have 50% or more participation. Our responsibilities involve creating and implementing internal policies to ensure company-wide compliance with domestic and international laws and regulations. We must ensure that all these transactions conform to each country's rules and legislation. Therefore, a typical day for me could be managing regulatory changes and providing guidance to different locations in imports, exports and trade compliance regulations. We also have a process using restricted party screening software to ensure compliance before any transaction, including company sponsor events, press releases, etc. Ongoing training of Aviagen personnel is also a big part of my job, so I am constantly coordinating compliance training that we provide in all our global locations or preparing/finalizing a compliance audit.
What are the main challenges you face?
The world of trade law is very dynamic. My field often deals with a high degree of stress. Concerns include keeping up with new rules and regulations and preventing violations. I may have to suddenly implement a significant regulatory change, so I must ensure our trade compliance program is flexible and agile. Sometimes the changes are not straightforward. Thus, we need to provide sufficient explanation to our global sites. At other times, even a small change can have significant unforeseen effects, so we always have to anticipate the broader impact.
As an example, due to the conflict in Ukraine, the trade actions and export control measures taken by dozens of governments worldwide to sanction Russian companies and individuals, including actions taken by multilateral financial institutions to suspend activities with Russia, have been unprecedented. We had to act swiftly, giving proper guidance at the global level to maintain our company within the regulatory changes.
What's the most unusual experience you've had in poultry?
When COVID hit, poultry trade and export people were faced with a new realm of challenges. We had to act quickly to maintain a high level of export and trade, despite the widespread travel restrictions, while always keeping bird health and well-being a top priority. We overcame these obstacles within Aviagen and with airlines, freight forwarders, agriculture ministries and other global trading partners. We maintained a stock supply despite considerable flight route restrictions, airport closures and many limitations. The effects cascaded across airports and the supply chain, preventing us from using our regular export routes. Aviagen continuously worked with our sister companies and global trade partners to provide food security worldwide. As a result of our efforts, we safely and securely transported healthy grandparent and parent stock chicks, which was quite a logistical accomplishment. COVID presented many similar challenges that we were able to overcome. We are responsible for feeding the world and taking this responsibility seriously. As a result, our adaptability, agility and creativity were strengthened during COVID. However, due to our commitment, grit and passion for feeding the world, we could maintain a steady supply of breeding stock to our customers across the planet throughout the pandemic.
How have you overcome any challenges as a woman in your field?
My experience is that women try to be perfect in everything. We believe we must meet 100% of the qualifications for any given job. This level of perfectionism often prevents us from seizing great opportunities. My motto is to empower yourself, empower others and have the mindset that you have the skills to do a specific job and know how to do it well. One may not be an expert in specific topics, but can learn, develop with the job and excel.
What advice would you give to women looking to start a career in your field?
I would give them the advice I offer to my daughter: I fundamentally believe that the world belongs to those individuals who want to make a difference, and gender is no barrier. As women, we can do anything if we put our minds to it. Prepare yourself, develop yourself and stay focused on your goals. Never expect to find happiness in another person before you are happy, independent and confident in yourself. If you do that, everything else will fall into place. Above all, constantly challenge yourself. I encourage my daughter to experience different things and never feel limited. I think involving girls continuously in science, technology, engineering and mathematics programs is essential. Poultry breeding requires people who are educated, skilled and innovative. We have many PhDs – geneticists, veterinarians, nutritionists and more. The poultry industry needs more women who are adept in these areas, and populating these fields with more women starts with building our confidence and belief in ourselves.
What does the future of poultry genetics look like?
Chicken is the most efficient, cost-effective and sustainable protein, and these are traits that we, as a poultry breeding company, are continually developing. These qualities are critically important for countries with less access to meat. And they are important amid growing attention for environmental sustainability. With the improvement in feed conversion ratio (the efficiency with which feed is converted to live body weight), poultry producers can produce healthier, more robust chickens with less feed – the single most significant cost of their business. With these reduced costs, they can offer affordable food with a high protein content to individuals and families in their communities. With the amount of research and development we are dedicating, these qualities will continue to improve to reap benefits for our customers, the people they serve and our planet.
What are you most excited about in the next 5-10 years regarding the poultry industry?
In addition to progress in feed efficiency, I'm excited about the leaps forward we are making to support the well-being of the birds. We are constantly breeding birds with greater skeletal and cardiovascular health and robustness, and flock management techniques are continually advancing to give the best possible care to the birds. We are also moving forward quickly in our knowledge of biosecurity, which means increased security of supply to the world. Our commitment to breeding for welfare and sustainability means that the industry will continue to improve in the next 5-10 years and beyond.
What keeps you entertained when you're not on the job?
I enjoy sports, triathlons, running, cycling and yoga, and I regularly participate in Aviagen-sponsored bike-a-thons and run-a-thons. I'm also a sports fanatic and love to watch soccer, basketball, tennis, and many other sports.
What's next for you?
My goal is never to stop learning. My career makes that easy because the regulations are constantly changing, so I am an avid reader and learner. I always think about the next professional accomplishment or professional certification I'd like to achieve.
I'm also passionate about experiencing different cultures and people across the globe, and my job offers that opportunity. I like to immerse myself in the culture, eat local food and get to know the people. I need to understand why things happen, whether related to trade or life. So, while we are all different, we are all humans and generally have similar goals, so it is intriguing to find that common ground.
I am highly pro-environment and am proud to work for a company that is continuously working to reduce the industry's CO2 footprint while decreasing our use of natural resources. I also do my best to recycle and conserve in my personal life. How will we survive if we don't look after our natural resources? We must think about becoming more efficient at the corporate and individual levels.
September 2023 - November 2022
---