Cage marks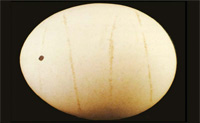 Description
'Cage marks' is the term used to refer to dirty marks, dirty lines or translucent lines on the shell when eggs are collected.
Incidence
In well-managed flocks, the incidence of this problem should be under 5%.
Cause
Control
Dirty marks or lines are due to:
Rusty or dirty wires in the cage fl oor or roll-out trays
Check wire floors. If they are rusty, either:
• replace the floors.
• regalvanise if possible, or
• paint with a light-coloured paint.
Brush roll-out trays regularly to keep them clean. Do not allow excessive build-up of manure under cages. Remove manure caught in cage floors. Do not allow ammonia to build up in sheds, as it causes corrosion of metal cages. Make sure ventilation is adequate and that manure is kept dry.
Translucent lines result when the shell fails to dry out quickly after laying, which is made worse by:
High humidity in the layer shed
The shed must be well ventilated.
Crowding
Avoid overstocking.
COPYRIGHT NOTICE: OPTIMUM EGG QUALITY - A PRACTICAL APPROACH
© The State of Queensland, Australia (through its Department of Primary Industries and Fisheries) and DSM Nutritional Products Ltd., 2007. No part of this publication may be reproduced, copied or transmitted save with prior written permission of Director, Intellectual Property Commercialisation Unit, Department of Primary Industries and Fisheries, GPO Box 46 Brisbane, Queensland, Australia 4001, and DSM Nutritional Products Ltd.