Poultry waste treatment technologies comparison
Learn more about composting vs. biogas vs. Freetilizer
The treatment of chicken manure requires careful consideration and management. The associated costs and the necessary logistical operations can have a strong impact, stealing time and labor from your everyday tasks. It is crucial to find quick and efficient methods to manage waste treatment, so poultry producers have more time to devote to what is most important - taking care of the flock.

The search for solutions can be a daunting task. In a world full of information, it is important to consider all the options available and their impact on the poultry operation. After all, we can have multiple options but only one decision.
Usually, chicken manure can be valued as fertilizer through composting or with an energy-consuming drying process to stabilize the product. A recent trend is to create economic value from chicken manure by adding woody materials to create biogas which is then turned into electrical energy. However, this path generates two fractions of digestate – a solid and a liquid with low nutritional value. Since the organic matter present in the chicken manure is transformed into methane and then burned for energy production, it makes the solid fraction depleted of nutrients and organic constitution. The liquid fraction becomes concentrated in chemical elements that are potentially dangerous for environmental disposal or too expensive for treatment.
We all know that there are no perfect solutions, but there are approaches designed to use the best of modern technology and knowledge to find a more balanced path.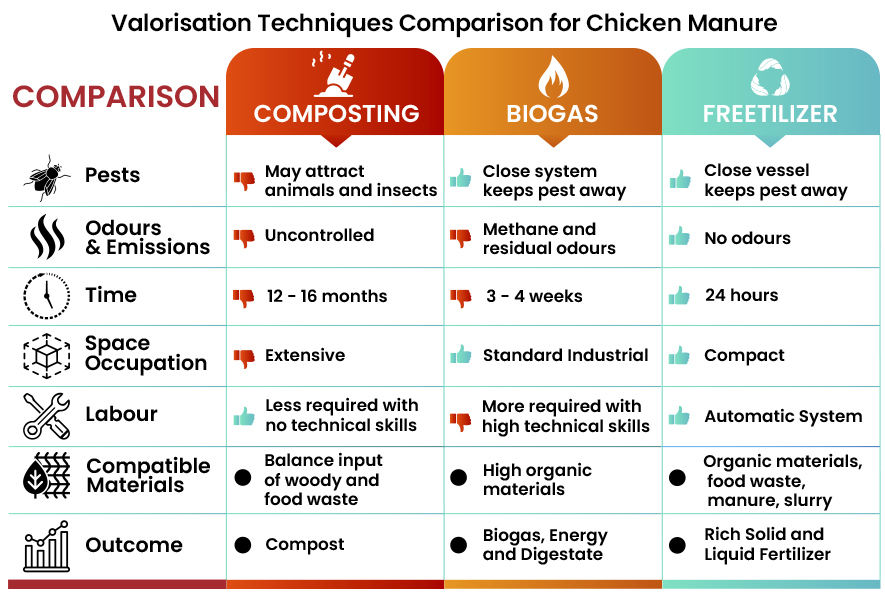 Freetilizer is an innovative technology with a pending patent, based on a hydrolysis process that applies specific enzymes in a reactor with controlled agitation, pH and temperature, that creates new value for organic waste transforming them into organic fertilizers in less than 24 hours. The application of water to chicken manure creates a slurry, which is perfect to be enhanced and increase the bioavailability of nutrients through the Freetilizer technology. The subsequent separation of chicken slurry into solid and liquid fractions, draws value from both fractions and simultaneously represent an inexpensive valorisation procedure. The liquid fraction becomes less concentrated in solids maintaining the nitrogen and potassium levels, while the solid fraction retains most of the organic material, nitrogen and phosphorus. The procedure ends with an efficient drying step, using a vacuum drying process that enables water evaporation at lower temperatures which guarantees nutrient quality preservation and results in the formation of a stabilized product. The liquid fraction can be concentrated efficiently using the vacuum drying system until desired nutrient composition is reached.
The fact that there is no generation of any effluent to be discarded or treated, combined with the rich nutritional composition of the two products created, shows how Freetilizer is a differentiating technology from other treatment techniques.
The establishment of waste treatment technologies must be examined on a case-by-case basis, taking into account many different factors. Our aim is to work with you to develop the best valorisation opportunity based on the design and needs of your poultry operation.
We are looking forward to your contact.

April 2023 - September 2022
---