How to monetize your chicken manure
Freetilizer technology can turn chicken manure into organic fertilizer
Farmers know that livestock production is an extremely demanding and time-consuming business. This profession leads to an intense human-animal connection that requires producers to become an expert in several areas in order to properly care for their animals.
While much of a producer's time focused on animal production, he/she must learn basic veterinary skills, nutrition management, building designer, mechanic skills and accounting.
Due to the high price of feed, a producer often takes advantage of local fields to grow cereal grains. Traditionally, animal waste was used as natural fertilizer to enrich soils and nourish crops, but due to the introduction of artificial fertilizers, organic materials have been repeatedly forgotten. However, the application of organic fertilizers is regaining prominence, and the agricultural crop markets are increasingly demanding this type of product.
In the near future, the valorisation of animal waste, will be part of any production process, despite the challenges of lack of space, time and technical capacity to do so.
Freetilizer technology responds to all these challenges by presenting a compact, efficient, low-energy consumption solution with a zero-waste approach.
Freetilizer is an innovative technology with a pending patent that creates new value for organic waste by transforming it into organic fertilizers in less than 24 hours. Freetilizer technology is also modular and can be adjusted to different types and sizes of livestock operations, allowing it to be customized to the needs of each client.
What's the ROI for Freetilizer?
Organic valorisation should not be understood only as an environmentally responsible act but also as a financially profitable decision, because in the end "money talks". So let's run the numbers.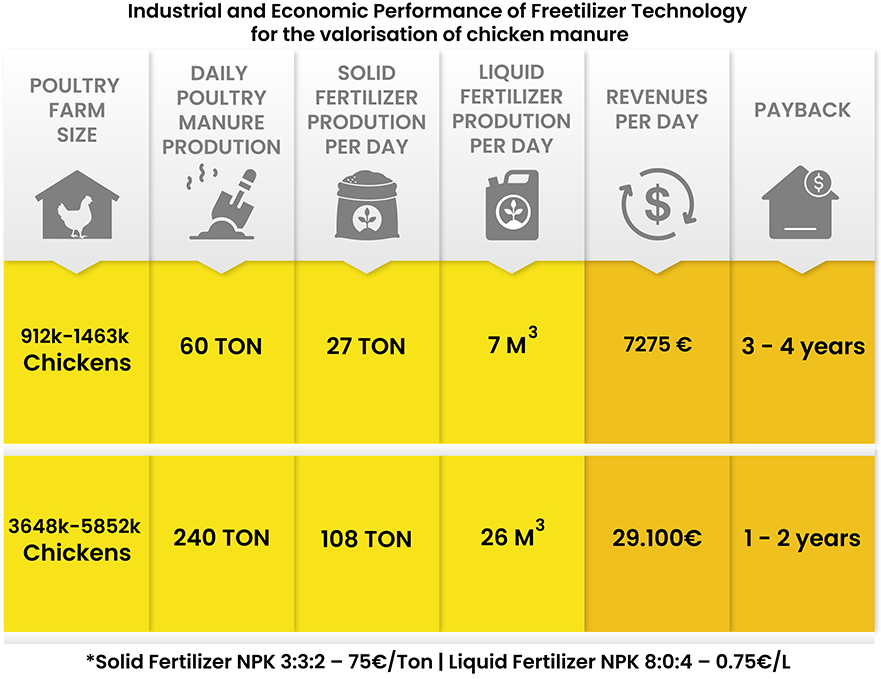 It is important to note that the cost of removing waste is also eliminated ~10€/M3 (transport and landfill).
As we can see, the application of Freetilizer technology for the valorisation of chicken manure could have a significant impact on the profits of poultry farming, allowing a quick return on investment. The path to the valorisation of animal waste is a decision of the present but also a glimpse of a brighter future.
We are looking forward to your contact. Email us at [email protected]

February 2023 - July 2022
---