Women in Poultry: Wendy Lantz
After taking over her parents' poultry farm at the age of 26, Wendy Lantz has taken a leading role in her business and in her local farming community.
Wendy Lantz grew up on her parents' poultry farm in southern Ontario, Canada, and, at the age of 26, decided to take over the family farm with her husband, Bruce. While she works off-farm as a social worker, she is heavily involved in the back end of the farm's poultry business.
In 2018, Wendy was elected as a district committee representative (DCRs) for the Chicken Farmers of Ontario (CFO), one of only three female DCRs out of approximately 50 province-wide. DCRs are farmer-elected and their primary function is to act in a consultative capacity with the board of directors and with other farmer-members in their districts.
Please briefly describe your career in poultry.
I grew up on the poultry farm we currently own. When I was 26, my husband, Bruce, and I bought the farm from my parents and have been farming ever since.
Having grown up in the country and having always lived on a poultry farm, I knew I wanted to continue on that path. I had always been hopeful to be able to raise my family either in the country or, more so, on a farm. When the option of purchasing my parents' farm became available, it felt like the right decision and the right time.
What are the main challenges that you face on the farm?
Dealing with the prevalence of avian influenza has been a challenge. The potential of diseases as well as changes in how chickens are raised, which influence the daily operations of the farm, are ongoing challenges. We also face continual political uncertainty with supply management and the challenge of ensuring that both the farmer has a fair return on their investment and the consumer has affordable meat protein in the grocery store.

Describe a typical day in your current role.
I work off the farm as a social worker in the community, however, I am very involved behind the scenes. I have regular conversations about how the birds are doing, what is happening in the barns and how things are going in general on the farm. My role includes the business side of things – paying the bills, ensuring the accounting is up to date and correct, dealing with suppliers and keeping a general handle on the business.
I am also a district committee representative for Chicken Farmers of Ontario. In that role, I represent the chicken farmers in my district. As a DCR, I interact with the board members and other DCRs on a regular basis.
One of my goals as a DCR is to have more women become active within the farming community. As such, I am planning to have a number of the women from my district attend an event where we have the opportunity to learn, interact and build relationships with one another.
What's the most unusual experience you've had in poultry?

The fact that I, as a woman, chose to take the risk and purchase my parents' farm with my husband was an unusual experience. I was only 26 when we purchased the farm, so the risk, along with ensuring that the rest of the family was in agreement and that family relationships stayed intact, was definitely unique. People still look at me with surprise when I tell them that it was my parents we purchased the farm from as many people assume it was Bruce's parents.
How would you reorganise the legislative minefield, if you could?
Supply management in Canada is not a legislative minefield; it is a system that has worked for over 50 years and continues to work very well. It enables responsible, sustainable production practices to be put in place for all chicken farmers. It ensures we create a high-quality product. Food safety and animal welfare are of paramount importance, and our On-Farm Food Safety Program and Animal Care Program ensures these high standards are met. Without the stability supply management provides, there can be no investment in innovation and productivity.
Have you encountered any challenges as a woman in poultry farming?
I am definitely a minority, especially in my role as a DCR. I have to say, though, the men I work with and with whom I sit around the table at CFO have been very welcoming.
What advice would you give to women looking to start a career in poultry?
I would say, "Go for it!" Poultry is a great career – there are so many opportunities, whether it is directly on the farm as a front-line farmer, in sales and interactions with the farmer themselves, or at the board level.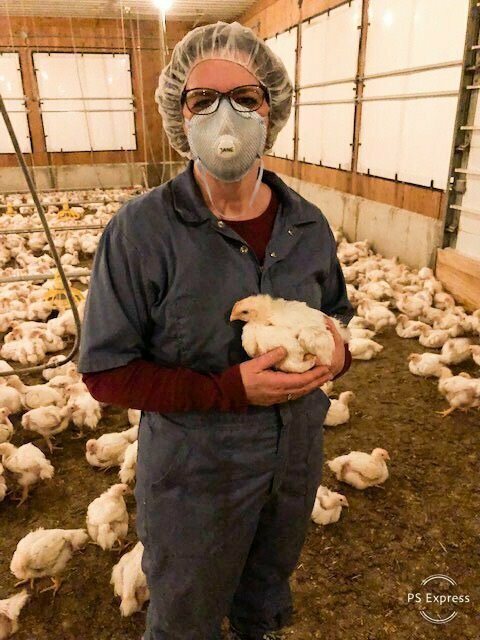 What would be your dream role in poultry?

I would love to be able to intertwine my profession as a social worker with my life as a poultry farmer. To work with farmers in a social-work role and meet with families as they manage intergenerational transfers is a dream of mine.

What outstanding challenge facing the poultry industry would you most like to solve?
I would like society educated on how chickens are raised. The media and other groups often misrepresent how chickens are raised. Chickens are raised with great care, they are treated appropriately; farmers love their animals and want the best for them.
I would also like people to see the Canadian supply-management system in a very positive light. Supply management is beneficial to everyone, and to have it looked at as a negative or that farmers are wealthy because of it, is not true. It ensures that there is supply for the market, and provides a balance between what the farmer gets paid and the costs to the consumer.
How has your relationship with the poultry sector evolved?
My relationship with the poultry industry has changed significantly throughout my lifetime. As a young girl, I was out there at the end of every crop helping to clean out and set up the barns, bring in the chicks – whatever needed to be done, I was part of that role. That has evolved into becoming the owner of the farm and learning not just about the daily operations of a business and how to run and manage a business, but also understanding the broader scope and political side of the sector.
How do you incorporate sustainable (ethical, environmental, economic) best practice into your day-to-day routine?
As poultry farmers, we truly care about the welfare of the birds. We ensure that the barns are well managed, the birds are grown under optimum conditions and they are treated in a very humane way. We keep an optimum square footage for the birds in order to ensure that they have enough space to be able to move around freely and stay healthy.
We are also growing our birds without the use of antibiotics in order to benefit everyone – the birds, the consumers and society as a whole.
The manure from our birds is spread back onto our fields in order to reduce the environmental footprint and the fertilisers that are required to grow our crops.
From an economic standpoint, we try and support local businesses as much as we are able. My friends laugh at me when I tell them that I picked up eggs from the neighbour, or I went to the cheese factory for my cheese, or to the honey farm for my honey. I love it in the spring and summer months when I have the option to purchase fresh produce from someone just a few kilometres from my home!
We also try to use local businesses when doing renovations to the barns. Just last year when we built a new barn, using local businesses was one of our priorities. This is just one of the benefits of supply management – it meets the demands of the consumer while also providing sustainable practices to ensure that everyone benefits.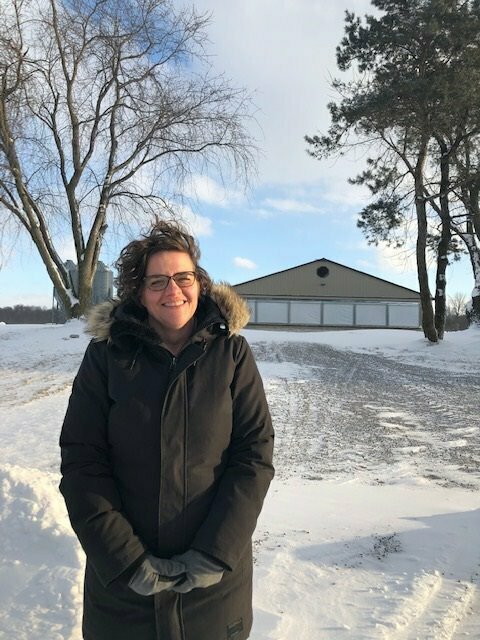 How do you feel about on-farm technology, either current or yet to be developed?

I completely believe in on-farm technology and its contribution to better business and improved animal welfare. Technology doesn't replace being in the barn and feeling the atmosphere in person, but it does enhance farming practices and improves the bird welfare.
What are the most memorable experiences you've had during your career in poultry?
My most memorable experience would have to be the intergenerational farm transfer that took place. It was a significant challenge, not only for my parents who wanted to have one of their four children purchase the farm, but also for my siblings, my husband and for me. Each of us (my parents, Bruce and I) wanted the family to stay intact and not have arguments or have the family no longer speak to one another because we now owned the farm. There had to be concessions made in order for us to be able to purchase it. I can happily say that we were able to achieve the intergenerational farm transfer successfully and that my relationship with my siblings is as strong, or stronger, than it has ever been!
Are there any individuals or organisations in the industry who you've found particularly inspirational?
The CFO recently began a programme called Women in Leadership. This programme has certainly inspired me to take on the role as a DCR and to step outside of my comfort zone to do something different. I had considered becoming a DCR before the programme began. However, the implementation of the programme and the encouragement from the staff has been inspiring.