Diseases of Poultry
By Ivan Dinev, DVM, PhD


FUSARIOTOXICOSES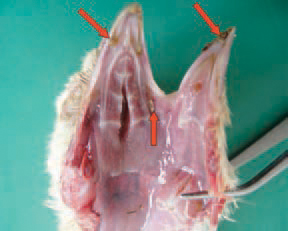 408.The Fusarium genus produces numerous mycotoxins, out of which, the most important for poultry pathology are trichothecenes, fumosinins, moniliformin, fusaro-chromanone and zearalenone. The Fusarium toxins possess a pronounced caustic effect, resulting in necroses and crusts of the buccal mucosa.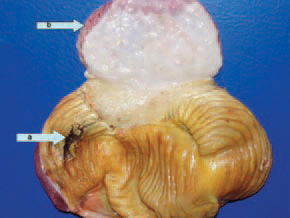 409.The caustic effect of some fusariotoxins is the cause of the commonly detected erosions and ulcers in gizzard cuticulum (arrow a). Note the thickened wall of the proventriculus (arrow b).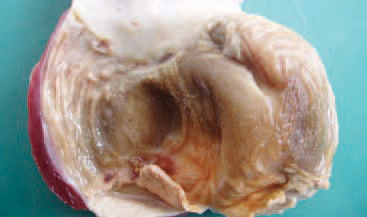 410.The cuticulum of the gizzard in broilers whose diet contains Fusarium toxins, is frequently with a linear appearance and under the ulcerations, the subcuticular surface is seen.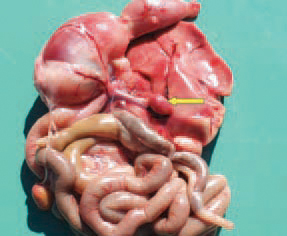 411.The high degree of spleen atrophy (arrow) is a common finding, a sign of the immunosuppressive effect of mycotoxins.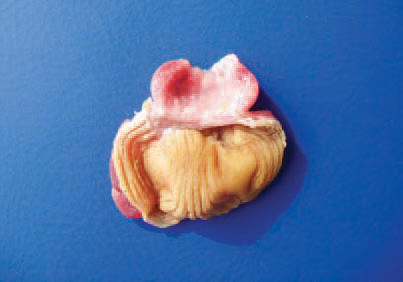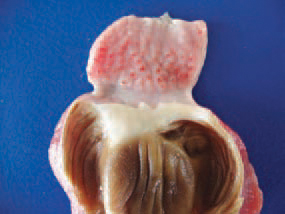 412.413.The hyperaemic and haemorrhagic mucous coat of the gizzard is a frequent finding in fusariotoxicoses.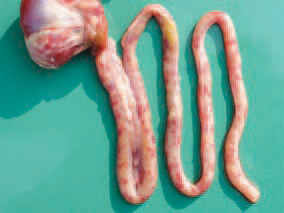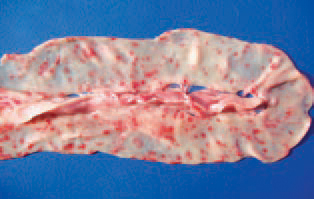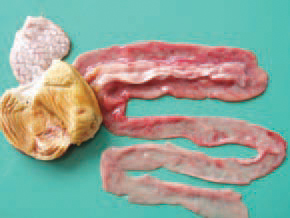 414.415.416.The lesions include also reddening and hemorrhage of intestinal muscosa. The size of the hemorrhage varies from 23 to 56 mm in diameter and they could often be seen through the intestinal wall. Usually, the mucous coat of the duodenum and the initial part of the ileum are affected.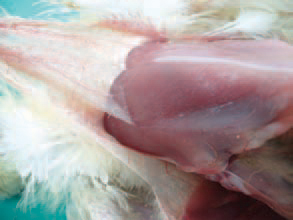 417A significant part of dead bodies are dehydrated.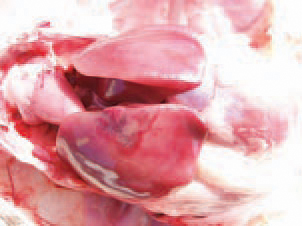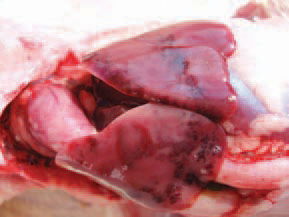 418.419.Inside the liver, hemorrhages with various intensities outlined at the background of severe dystrophic changes, are detected.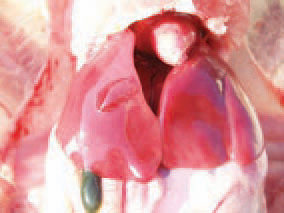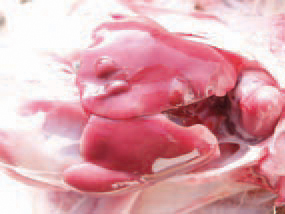 420.421.Frequent findings in fusariotoxicoses are the massive subcapsular liver haematomas, causing sudden death in broilers.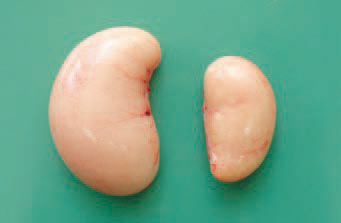 422.The fusariotoxin zearalenone has an effect, identical to that of oestrogenic hormones and results in reduction of testes in cocks. Left - normal; right - atrophied testis in a cock, in whose diet high zearalenone concentrations have been determined.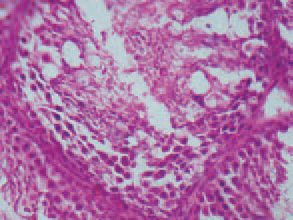 423.Microscopically, the testes of cocks with zearalenone fusario-toxicosis, show a fatty infiltration and atrophy of the germinative epithelium with the exception of the basal layer as well as interruption of the spermatogenesis.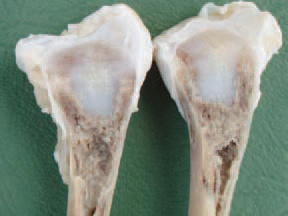 424Fusarochromanone causes tibial dyschondroplasia in broiler chickens, manifested with long bone deformation.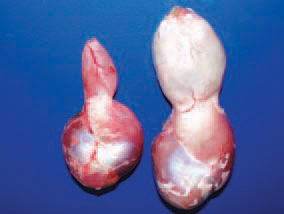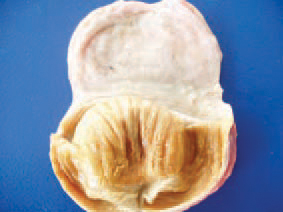 425.426.427.Frequently, the proventriculus is dilated at a various extent, its wall is thickened and in its mucous coat, fibrinous necrotic and haemorrhagic lesions are detected. The prevention from mycotoxicoses requires the detection and control of mycotoxin-contaminated forage components, avoidance of forage moulding and thus, the formation of mycotoxins. A screening of cereals and forages for the presence of some mycotoxins (aflatoxin, T-2 toxin, zearalenone) via ELISA is advised. The application of commercial mycotoxin-binding agents could possibly reduce the effects of some of them. In some mycotoxicoses, the systemic requirements for vitamins, minerals and proteins are increased and they could be balanced by supplementation with forage or water.
This book is protected by the copyright law. The reproduction, imitation or distribution of the book in whole or in part, in any format (electronic, photocopies etc.) without the prior consent, in writing, of copyright holders is strictly prohibited.