Diseases of Poultry
By Ivan Dinev, DVM, PhD


PULMONARY HYPERTENSION (ASCITIS) SYNDROME IN BROILER CHICKENS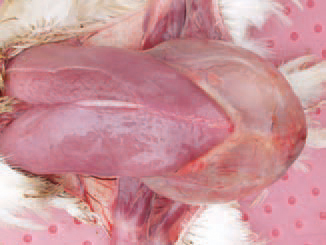 463.464.The pulmonary hypertension syndrome (PHS) or ascitis is related to the rapid growth and enhanced metabolic processes in broilers. Affected chickens are with a strongly distended abdomen, reluctance to move, respiratory troubles and cyanosis.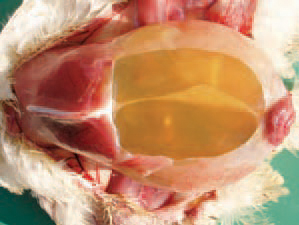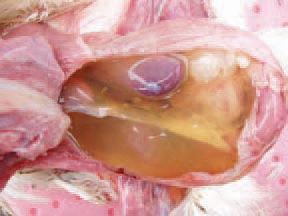 465.466.The pleuroperitoneal cavity of affected chickens is filled with straw-yellow fluid. The rapid growth in contemporary broilers is related to higher needs for oxygen, and the lung remains relatively small vs body dimensions. The main factor for PHS is hypoxaemia that results in enhanced cardiac activity. The consequences are pulmonary hypertension, right cardiac failure and ascitis.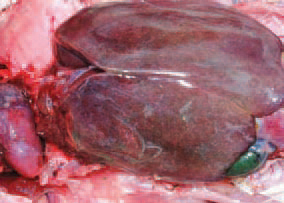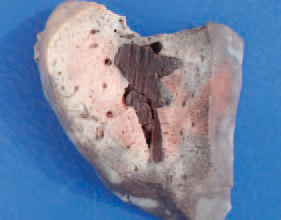 467.468.Immediate causes for hypoxaemia are the inadequate ventilation, the high ammonia or dust levels in premises, low temperatures, stimulating the metabolic processes. Generalized passive venous hyperaemia and stasis in the liver and other viscera are observed.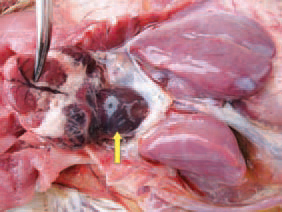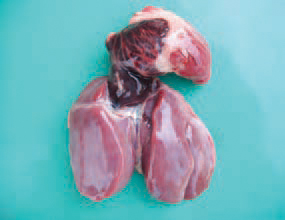 469.470.The poseterior vena cava and the right half of the heart are over filled with blood.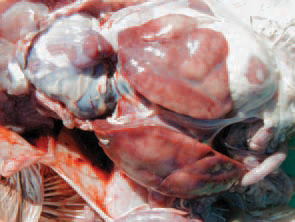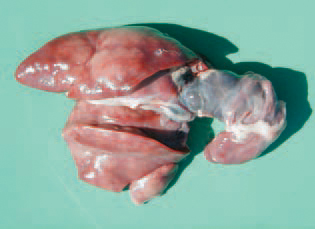 471.472.In advanced stages, the regenerative reparative processes in the liver could occur. The lypoxia favours the growth of connective tissue in the interstitium that results in thickening of the organ and appearance of sclerotic lesions.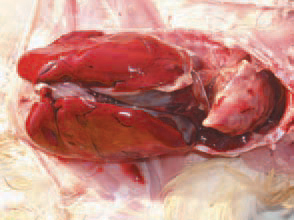 473.The stasis is sometimes causing liver rupture and internal bleeding.
474.In a number of cases, a secondary contamination with E. coli could occur and therefore a serious fibrnous inflammation, manifested as polyserostis, could be observed.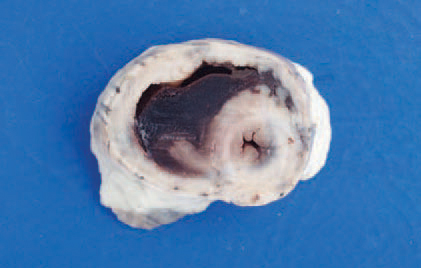 475.a left compensatory hypertrophy is observed (transverse cross-section of a fixed heart).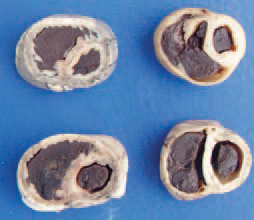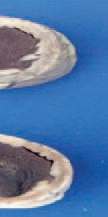 476.477.The right ventricle at an early stage is hyper-trophied whereas at a later -dilated with extremely thinned wall (transverse cross sections of fixed heart). The diagnosis is based on gross lesions. The reduction of oxygen requirements by slowing down the metabolism protects from and decreases the incidence of ascitis. Restriction of forage consumption and various light patterns are recommended.
This book is protected by the copyright law. The reproduction, imitation or distribution of the book in whole or in part, in any format (electronic, photocopies etc.) without the prior consent, in writing, of copyright holders is strictly prohibited.