Diseases of Poultry
By Ivan Dinev, DVM, PhD


RUPTURE OF THE GASTROCNEMIUS TENDON IN BROILER BREEDERS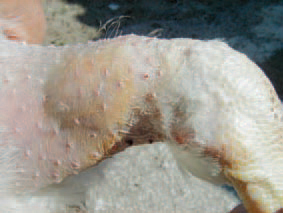 490.This state could cause significant economical losses in broiler breeder flocks. It is usually seen in birds older than 12 weeks but is also observed in breeders at the age of 7 weeks or older than 24 weeks. The rupture could be uni- or bilateral. Clinically, lameness is observed. In affected birds, swelling of the posterior surface of the leg, just above the tibiotarsal joint could be palpated.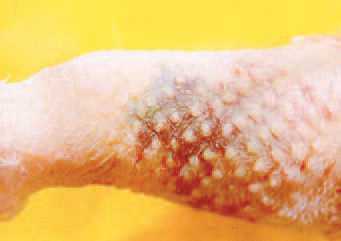 491.In acute lesions, haemorrhages are visible through the skin. In older lesions, a blue-greenish discoloration is present whereas in chronic lesions, very hard masses as abnormal subcutaneous tissue are palpated.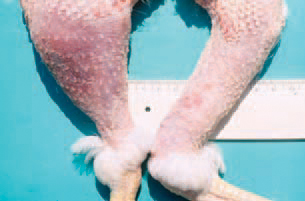 492In part of birds, the muscles of affected legs undergoes a various degree of atrophy. In acute lesions, swellings and haematomas under the skin of the posterior surface of the leg are detected.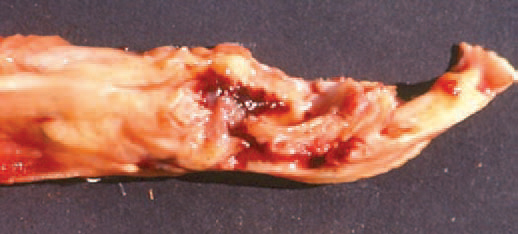 493The rupture is usually seen as irregular, transverse interruption just above the tarsal joint. Among the haematoma, the free end of the tendon could be seen.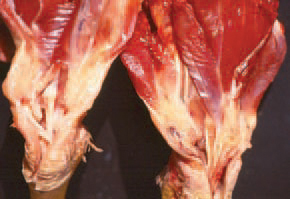 494.495.. In older or chronic lesions, the blood is partially or completely reabsorbed. The end of ruptured tendon and the adjacent tissue are involved at a various extent by a newly grown fibrous tissue. RGT should be differentiated from reovirus-and MS infections, where the gross and histological lesions are with a marked inflammatory character.
This book is protected by the copyright law. The reproduction, imitation or distribution of the book in whole or in part, in any format (electronic, photocopies etc.) without the prior consent, in writing, of copyright holders is strictly prohibited.