Diseases of Poultry
By Ivan Dinev, DVM, PhD


HYPERANDROGENISM IN BROILER CHICKENS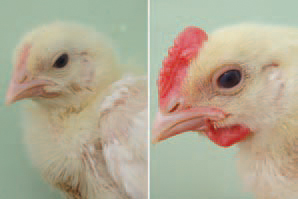 513.514.Hyperandrogenism in broilers is a condition, manifested with marked signs of masculinization in chickens from both genders. The first signs could start very early after the age of 10-12 days. A very noticeable reddening of the comb and wattles, coarse feathering of the face, strong growth of nails and a highly aggressive behaviour in about 100% of birds are observed.
515.Facial wounds following manifestations of aggressive behaviour.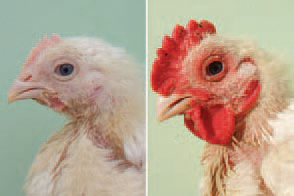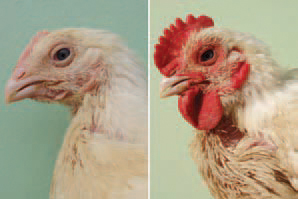 516.517.The peak of clinically manifested masculinization traits is between the age of 20 and 30 weeks in all chickens. The serum testosterone is manifold higher. In 23-day-old broilers, average testosterone concentrations were 709 ng/dl vs 36 ng/dl in intact chickens at the same age. The mycotoxins following contamination of some of forage components with moulds are assumed to be a possible cause for this state, but yet, it is not clear if this or another factor is causing hyperandrogenism.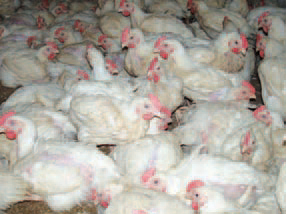 518.view of 35-day-old broiler chickens with signs of hyperandrogenism. All chickens in the premise are with strongly developed secondary sexual characteristics.
This book is protected by the copyright law. The reproduction, imitation or distribution of the book in whole or in part, in any format (electronic, photocopies etc.) without the prior consent, in writing, of copyright holders is strictly prohibited.