Diseases of Poultry
By Ivan Dinev, DVM, PhD


SLIPPED TENDON (PEROSIS)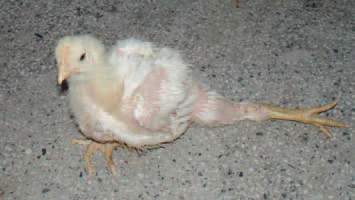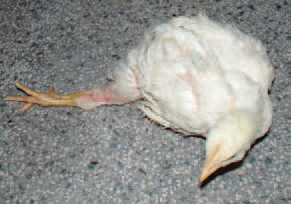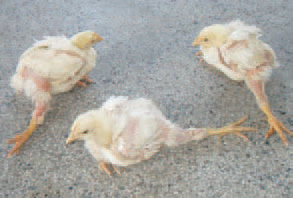 458.459.460.Perosis or chondrodystrophy is encountered in young birds whose diet is deficient in manganese (Mn) or some of the following vitamins: choline, nicotic acid, pyridoxine, biotin or folic acid. This is an anatomic deformation of leg bones in young chickens, turkey poults, pheasant poults etc. It is characterized by retarded growth of long bones, widening of the tibiometatarsal joint, twisting or bending of the distal end of tibia and the proximal end of metatarsus and finally, slipping of the gastrocnemius muscle tendon from its condyles. Clinically, it is manifested by impaired locomotion because of leg lateral and posterior malposition of the leg.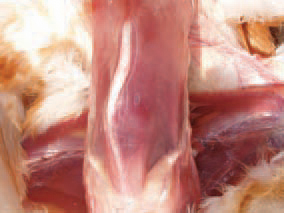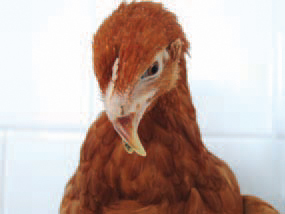 461.462.The vitamin D3 deficiency or lack, or the impaired ratio of calcium and phosphorus result in rachitis in young birds. It is encountered more frequently in industrial poultry breeding where the forages are often inadequately balanced. The deficiency of vitamin D3 and phosphorus are more common in growing birds whereas the calcium deficiency in young or adult layer hens. The newly hatched chickens have depleted calcium stores. The calcium deficiency is rapidly manifested if they do not receive an adequate diet supplement. Clinically and morphologically, soft bones or various degree of bone deformation are determined. The birds usually lie down and their growth is retarded. The diagnosis is based upon the complex evaluation of their age, signs and lesions. The supplementation of vitamin D3 with water or forage and the balancing of Ca/P ratio in the diet contribute to the favourable outcome of the disease.
This book is protected by the copyright law. The reproduction, imitation or distribution of the book in whole or in part, in any format (electronic, photocopies etc.) without the prior consent, in writing, of copyright holders is strictly prohibited.