Diseases of Poultry
By Ivan Dinev, DVM, PhD


GOUT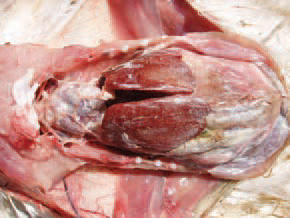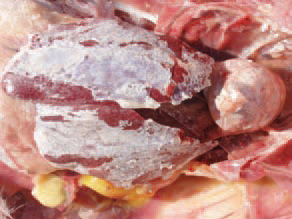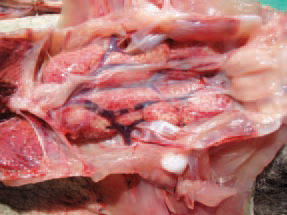 502.503.504.The gout is characterized by retention and buildup of urates in tissues. It is seen as two separate syndromes: visceral gout and articular gout. The visceral gout is manifested with deposition of urates in renal tubules and the serous coats of the heart, the liver, the mesentery, the air sacs or the peritoneum. The urate deposits on serous coats resemble a chalky white dust. Visceral urate deposits are generally due to renal failure. Possible causes for this could be obstruction of ureters, renal damage or dehydration.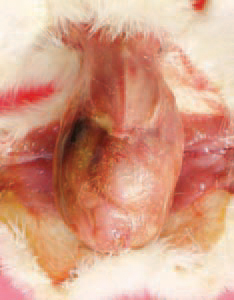 506.507.Most commonly, visceral gout following dehydration is observed in newly hatched chickens after overheating or a more prolonged stay in the hatchery. Visceral gout outbreaks are related to vitamin A deficiency, treatment with sodium bicarbonate, mycotoxicoses etc.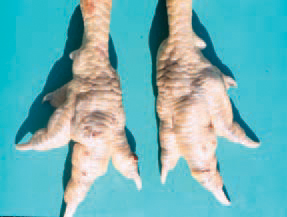 508.articular gout is characterized with periarticular urate deposits (tophi), especially around the joints of toes and the foot. The joints are enlarged and toes - malformed.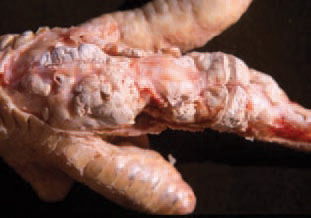 509.After opening of affected joints, the periarticular tissue is white. A white semi-liquid matter, due to urate deposits, could also be seen.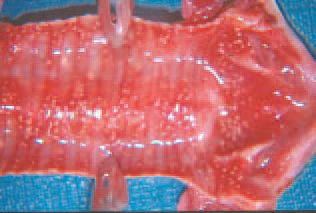 510.In chronic cases, urate precipitations could be observed in the trachea, the comb, wattles etc.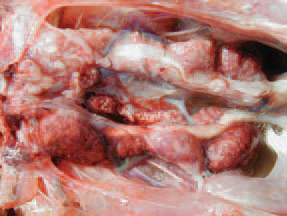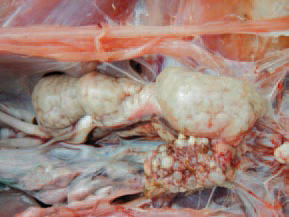 511.512.Urolithiasis is an aetiologically unknown state, occurring primarily in cage layer hens, characterized by obstruction of one or both ureters with urates, atrophy of one or more renal lobes and a various degree of renal and visceral gout. A number of aetiological factors are related to this condition: protein excess, calcium excess (3% or more), sodium bi-carbonate toxicity, myco-toxins (ochratoxin etc.), vitamin A deficiency and nephrotropic strains of the infectious bronchitis virus. The lower phosphorus levels (under 0.6%) are probably helping the manifestation of the disease. There are no specific clinical signs except for the depression and the weight loss. The death rate could increase and persist around 2-4% monthly during the productive period. The total mortality is heavily affected flocks could reach 50%.
This book is protected by the copyright law. The reproduction, imitation or distribution of the book in whole or in part, in any format (electronic, photocopies etc.) without the prior consent, in writing, of copyright holders is strictly prohibited.